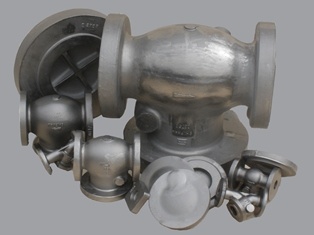 Think of a test that you face in metal component design or application. Here are some examples of where leveraging the advantages of sand casting have helped solve an application challenge. Maybe you will see a problem you are working to resolve.
High performance needs combined with light weight
Military hardware transported by air to the place it is needed must be ready to perform, but also must be light enough to be portable. "Box Beam" sand casting sets in radiographic quality 17-4PH stainless steel ranging up to 1,000 lbs. and 14' in length provided the needed strength and weight. The solution was a result of work to select the alloy grade that delivered the needed performance with the right strength to weight ratio, and then producing to the standard.
Design and Tooling Capability Saves Development Time
Quick performance, perhaps caused by the need to rapidly develop alternative sources, relies in part on robust design and tooling capabilities. ProE and AutoCAD for in-house design, Magma Soft for solidification simulation takes time and guesswork out of the design process. When combined with the ability to supply patterns in wood, synthetics, metals, and other materials the upfront time to get into production quickly.