Think of a problem that you face in metal component design or application. Here are some examples of where leveraging the advantages of continuous casting have helped MetalTek and a customer work together to solve an application challenge. Maybe you will see a problem you are working to resolve. For more information regarding to any of your metal applications, please Contact Us.
Continuous Cast Parts For Deicers
Fluid conduit connectors are not large parts, but are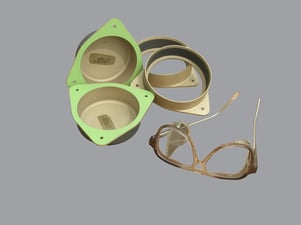 expensive to produce because of the amount of metal that must be machined to achieve the desired shape, especially in the flange. MetalTek provides a wide range of alloys for aerospace applications, including precipitation hardening grades 15-5 and 17-4, and cast nickel aluminum bronze 4880B. Judging the profile of finished components, MetalTek can often recognize an application to be an appropriate use of shaped continuous cast product. This can eliminate the need for much expensive milling and also may avoid welds or seams - leading to a high integrity cost-effective part.
Premium Continuous Cast Material Saves Machine Shops Money
Machine shops often need premium material to eliminate
defects found while machining, or net shaped stock to avoid expensive milling operations. As a key continuous cast supplier for aerospace, gear, defense and food industries, with processes certified to ISO 9001, Nadcap, AS9100, and many others, MetalTek knows what industry demands. Customers count on us for highly sound structures free of gas porosity, dirt, shrinkage, and inclusions. Premium cast shaped product with less stock to machine saves cost. An extensive stock inventory of rectangular, hollow and solid aluminum bronze, nickel aluminum bronze, and AMS 4880 means we have what you need. MetalTek is an industry leader in the manufacture of special sizes and alloys and is committed to creating satisfied customers by meeting every requirement, on time, at a competitive price.
Continuous Casting for Reliable Landing Gear Components
Two major landing gear components are bushings and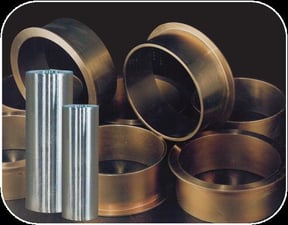 sleeves that need to withstand wear from airplanes transitioning from 140-190 MPH to taxi speeds in a matter of seconds. Working with a producer of those sleeves, MetalTek's onsite metallurgical group recommended changes to specifications to use continuously cast components made of AMS 4880, a nickel aluminum bronze alloy, which met the component's wear demands and offered an attractive cost savings over forged material. Availability and fast turnaround of landing gear components is a must to complete maintenance and repairs quickly. With less material to machine away, additional cost and time savings are realized.
Continuous Cast Gear Blanks Simplify Post-Processing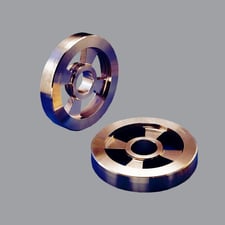 Continuous cast gear blanks are produced by extruding the material over a mandrel. That provides internal structures and reduces the need for expensive processing later. Tooling can be design to deliver just the profile needed, and quantities are much lower than a full mill run.
The versatility of continuous casting helps turn metals problems like these into successes. To learn more about the continuous casting process or determine if it is a fit for your application, please Contact Us.