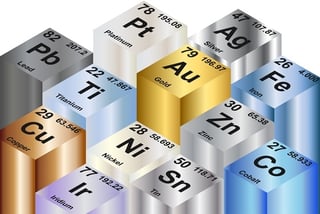 The high lead tin bronzes are superior bearing alloys when all properties and costs are considered. Four alloys constitute a representative group of materials most widely used for bearings and bushings:
MTEK 83-7-7-3 / C93200 (83% Copper, 7% Tin, 7% Lead, 3% Zinc)
MTEK 80-10-10 / C93700 (80% Copper, 10% Tin, 10% Lead)
MTEK 79-6-15 HI LEAD / C93900 (79% Copper, 6% Tin, 15% Lead)
MTEK 943 / C94300 (70% Copper, 5% Tin, 25% Lead)
Their load carrying capacity varies directly with their tin content although it will also be affected by the presence of small amounts of other alloying elements, such as nickel and phosphorus. Lead in the alloy is insoluble and is finely dispersed mechanically in the copper-tin matrix. This combination gives good load carrying capacity and toughness due to the copper-tin content and gives lubricity, conformability, and embedability (the ability of a metal to enclose foreign particles within itself) due to the free lead that is frozen into the alloy.
These alloys are superior bearing alloys when all properties and costs are considered. They range from maximum operating temperatures of 450°F / 230°C and load capacities of 4,000 lbs. per square inch for those with the highest tin content, to maximum operating temperatures of 400°F / 200°C and load capacities of 3,500 lbs. per square inch for those lowest in tin content.
These are typical bearing bronzes and are generally available in the form of standard stock bushings and bars. Very high leaded bronzes are included in this group. These contain lead in quantities up to 25% and are excellent as a bearing material. MetalTek's Bearium® bronzes – a family of alloys that feature a proprietary lead in content of 18% to 26% - are examples of a high-lead material that offers superior performance in this type of application.
For guidance in selecting the appropriate high lead tin bronze in your application, contact us.