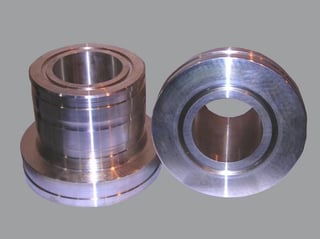 Grade
HIGH TENSILE (C86300) Manganese Bronze
Description
Family of bronzes primarily known for its extremely high strength and ability to resist the corrosive effects of seawater and brine. Often referred to as Yellow Brass.
Properties – Why select this material
Tensile strengths range from 60,000 psi to 110,000 psi and are readily obtainable depending on the composition of the alloy chosen.
Great care must be taken when using these alloys as bearings, because manganese bronze and steel do not wear well together. Wear is rapid, and under high loads and speed, seizure can occur. Alignment must be precise and positive lubrication is essential.
Applications – Frequent uses
Trunnion bearings
Heavily stressed gears, worm gears, and worms
Gearshift forks
Impellers
Highly stressed machine parts.
For guidance in selecting the appropriate manganese bronze in your application, contact us.