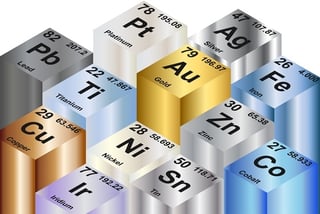 Grade
Nickel Aluminum Bronze Alloys
Description
This group of alloys contains nickel and is primarily selected where a combination of high strength, corrosion resistance and resistance to cavitation and erosion damage is required.
Properties – Why select this material
Alloys of both the aluminum bronze family and the nickel aluminum bronze family possess excellent machinability, are easily weldable, and can be successfully joined to many other dissimilar alloys.
Aluminum bronze alloys are stronger than 300 series stainless steels. (Tensile of 90 ksi compared to 70 ksi for 304 / 316 stainless)
They perform particularly well under stagnant conditions, because resistance to pitting and crevice corrosion attack is superior to that of the 300 series stainless steels.
Applications – Frequent uses
Components in seawater service
Propellers
Wear rings
Desalination components
For guidance in selecting the appropriate nickel aluminum bronze in your application, contact us.