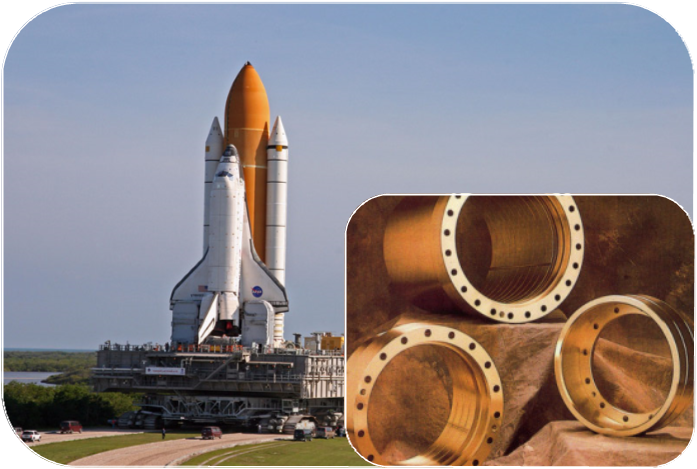 The days when manufacturers had a host of technical experts on staff are past in many industries. And this at a time when material choices are broader and product performance demands are higher than they have ever been. So the situation will not get any easier. Here are just four real life examples where MetalTek International helped a customer's heat, wear, or corrosion problem.
If you have a question about alloy selection, if you manufacture products that operate in harsh corrosive, high wear, or extreme temperature environments, or if you are simply looking to improve product performance, contact MetalTek.
Bearium Solves Load and Friction Problems in Mobile Crawler
From the days of Apollo program through the Space Shuttle a heavy duty crawler has carried the enormous weight of space vehicles down the one-mile path to the launch pad. Early designs used to carry this load were subject to sudden catastrophic failures of the roller bearings, jeopardizing timing of the launches. The crawler went through an emergency redesign to replace the roller bearings with sleeve bearings manufactured using Bearium B-10, a high-lead bronze that is only available from MetalTek International. Designs using Bearium delivered acceptable performance in an application that would then feature much higher friction. Bearium is used in the space craft crawler application to this day.
Creating a "Memorial to Last a Lifetime"
Working with architects to create a "Memorial to Last a Lifetime" is no small task. Every step of program management is critical—from materials and engineering, to budget compliance, to execution. Initially, the Pentagon Memorial team approached MetalTek International about choosing the "right" alloy to last 150 years; as various materials were trialed and budgeted, the ultimate selection came down to a restricted-range 316LN (CF3MN-Mod) alloy that would meet the design requirements and still be producible to tolerances such that 184 Memorial Units, each weighing over half a ton and measuring over 12' (4m) in length, would seem to be "identical." Specialized tooling, processing and fixtures were developed, trialed, and modified against an aggressive timeline. In the end, MetalTek met the Vision, the Budget, and the Schedule.