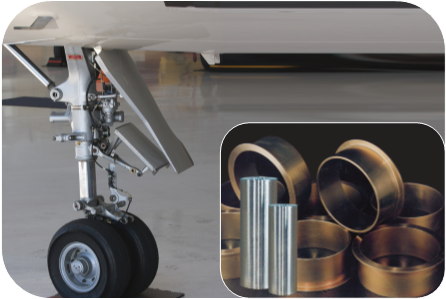 The continuous casting process involves pouring molten metal through a die of the desired outside profile. If shaping on the I.D. is also desired, the material may flow around a mandrel to create that profile. As a result, continuous cast product is often chosen to dramatically reduce machining cost. Here are just two examples of when the continuous casting process resulted in a cost savings.
AMS 4880 Alloy for High Wear Bushings and Sleeves
Taking off in an airplane is exciting but safely landing at your destination is the ultimate goal of flight. The landing gear is just one of the many important systems MetalTek's aerospace customers design and build for commercial use. Two major landing gear components are bushings and sleeves that need to withstand wear from airplanes transitioning from 140-190 MPH to taxi speeds in a matter of seconds. MetalTek's onsite metallurgical group recommended changes to their customer's specifications to use continuously cast components made of AMS 4880, a nickel aluminum bronze (NAB) alloy, which met the component's wear demands and offered an attractive cost savings over forged material.