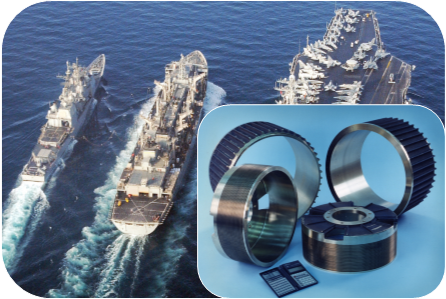 Sometimes particular alloys work in an application. Sometimes critical components and materials just don't perform in a certain environment at all. There are factors like strength, resistance to corrosion, environmental temperature extremes, and many others, that help dictate which alloy to choose. Often a designer will select a familiar standard "workhorse" grade and keep moving, when time spent to better understand the environment and performance expectations can result in a healthier decision – one that reduces long term cost or improves performance.
Some examples where users analyzed the specific application and worked with MetalTek on selecting the correct alloy may shed some light on how that analysis provided a better material choice:
Metal Matrix Composite for Clutch Winch Drum Dramatically Increases Life
Naval supply replenishment vessels transfer equipment and supplies to military ships in service, while allowing for the relative motion of the ships. They employ high horsepower continuous slip air clutches to control the tension of connecting cables between the ships to allow for motion of the seas and relative movement of the vessels. The drums became unreliable and subject to significant wear when the change to non-asbestos brake material was implemented. MetalTek pioneered the development of a Metal Matrix Composite (MMC) centrifugally cast material for use in the friction drums. The MMC material used in the drum application virtually eliminated corrosion and drum wear. In addition, reduced hourly operating cost by 90%.