Non-ferrous metals or alloys are materials that are not iron based like their ferrous counterparts. One of the more common groups of non-ferrous materials are copper-based alloys such as bronze and brass. While it is common to use brass and bronze interchangeably, there is a difference.
Brasses are copper-based alloys which have zinc as the principle alloying element. In some cases, small amounts of nickel, aluminum, iron, or silicon may be also present. A good example is C85500 (also known as "60-40 yellow brass"). This alloy contains up to 63% copper, 0.8% aluminum, and around 40% zinc. Since the zinc content is high, the material is classified as brass.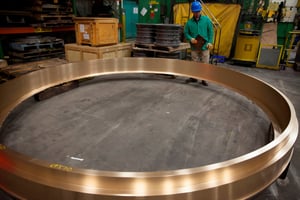 Bronzes are copper-based alloys where the major alloying element is not zinc or nickel. The term bronze is used with a preceding modifier that describes the type of bronze it is, by indicating the major alloying element(s). For example, MTEK 83-7-7-3/C93200 is a high lead tin bronze because it contains 7% tin and 7% lead in addition to 83% copper and 3% zinc. Also, MTEK 175/C95400 is called an aluminum bronze because it is made up of 11% aluminum in addition to 85% copper and 4% iron.
Common bronze families or alloy groups are: Aluminum Bronze, Manganese Bronze, Tin Bronze, Leaded Tin Bronze, and High Copper Alloys.
Copper-based alloys are specified for their ability to satisfy needs like corrosion resistance, good mechanical strength, frictional and wear properties, bio-fouling resistance, and high electrical and thermal conductivity.
We have come a long way in the 5,000 years since the beginning of the bronze age, but a unique combination of properties and values make copper-based alloys an important family of materials to this day.
To learn more about specific types of bronzes, check out our article here.